Good god, I've been horrible at updating recently... Apologies all around. Life since getting back to LA has been busy, not in the least because of my determination to get my skill set in Sewing up to at least 250 by making [1800's Corset Pattern] and all the other accoutrements that go along with a pirate costume. Speaking of which, Pirates/my birthday hullabaloo went marvelously and I am now both 20 and sympathetic for the plight of Davy Jones. Poor little octopus man.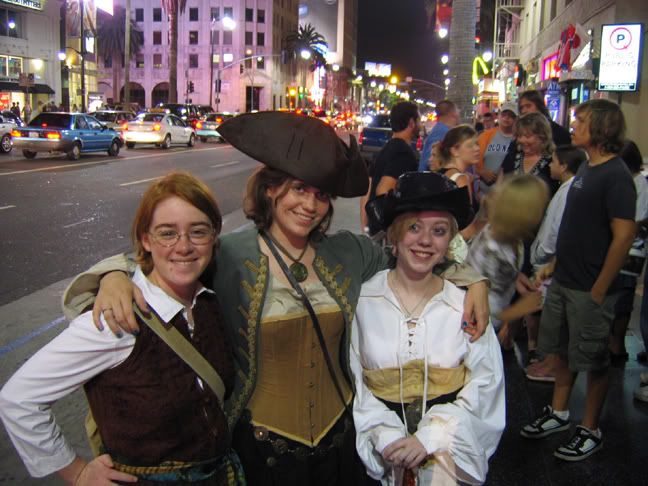 (
catfish42
on the left, myself in the middle, and
saitenyo
on the right, standing on Hollywood Blvd. after the fact and looking as if we're in the mood to commandeer something.)
We all went back to my house afterwards for cake, presents (I love you all), and several hours worth of watching stuff on YouTube. Quite the party.
Hung out with the entire Maddy-Chelsea-Wes-Reagan-Annie gang again on Saturday at the Flight release party, which resulted in fun, delicious vegetable curry, and meeting lots of new people whose names I've
probably
forgotten already but they were all pretty amazing so I think I'm okay. Kazu liked my sketchbook, so I'm hoping I can rev up the sequential half of my brain within the next few weeks... I have tons of stories I want to put to paper, so now I just need to polish them up and choose one.
Right, work. I'll finish this later.
-C