Claire has returned how, and there was much rejoicing. But enough of that! Onto business.

Chelsea, Madeleine, Lissa and all others who might be interested-

I have a plan. And if Lis is available, then it will be possible to execute said plan without a hitch. Here's the idea: good ol' LACMA is hosting the exhibit Tutankhamun and the Golden Age of the Pharaohs, and seeing how we're all a bunch of Egyptophiles I figured we shouldn't miss out on the thing (of course a kink has already been set in our metaphorical chain as I just realized that the exhibit doesn't start until the 16th, but I'll continue with my idea anyway.). In conjunction with this little gem of pharaonic ecstasy, our belovéd Wil Wheaton will be performing sketch comedy in the Acme theatre's A Day in The Life show on Saturdays up until the 18th (conveniently a few blocks away from LACMA!). If anyone else is interested, I'd either love to hit both of these on one day (and visiting the La Brea tar pits wouldn't hurt, either), or we could see Wil this saturday and make the exhibit and the tar pits on another day. Anyways, I don't want to let this summer go to waste, and I'd love to see the lot of you!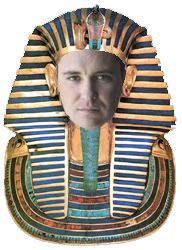 ...I think that picture sums up just about how cool this would be.
-C